ABOUT THE PROGRAM
With the increased numbers of job losses and evictions, and the added uncertainty of the pandemic, we feel the need to broaden our initiatives to have an even greater impact.
The homeless population does not have access to life saving practices and basic healthcare services, which initially places them at risk in the middle of a global pandemic. Many of our homeless population fear staying in shelters because of the increased risk or COVID-19 outbreaks. The homeless population already experiences increased levels of diabetes and heart disease due to diet and lifestyle, which are proven risk factors in both onset and duration of COVID-19.
Since prevention of disease is the first line of defense, we plan to allocate funds to provide pop-up healthcare. The clinic will form key partnerships with organizations that continually help the homeless population and know them intimately. At events put on by organizations such as Charleston Uplift, Beyond our Walls, Potluck in the Park, and Walking Women Welfare, among others.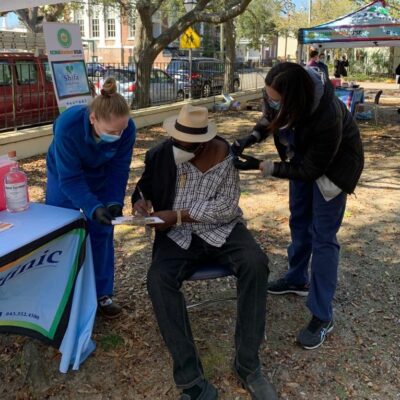 HOW WE HELP
Our staff will provide basic health screenings onsite to evaluate the risk factors of COVID-19 for the individual, as well as, providing a baseline knowledge of health. These screenings will include, blood pressure checks, blood sugar analysis, and basic heart and lung assessment. We will be providing COVID-19 testing by partnering with local organizations and PPE to all to help prevent the spread of the disease. There will also be flu vaccines available and nurses onsite to administer them. We are an approved clinic by DHEC to receive COVID-19 vaccinations when available.
In addition to meeting them where they are we also will be collaborating with the up above mentioned organizations to provide them with transportation to be followed up at the clinic for chronic medical conditions and pregnancy or well women care.
Funds will also be used to purchase hygiene and food items that are specific to the needs of these individuals. Hand hygiene and cleanliness are extremely important in the spread of disease. This can be difficult when you do not have access to running water. The clinic will provide the individuals with hand sanitizer, bar soaps, dry shampoo, and cleansing wipes to ensure better hygiene. It is also imperative that this population has forms of PPE such as face masks. Food bags containing ready to eat items and canned food, along with can openers, and other supplies will be provided as well to promote good nutritional health.
HOW YOU CAN HELP
This program would not be able to run without your continued support. We are always looking for financial donations as well as donations in the form of hygiene and food products. Feel free to contact us if you have any questions.
Bananas

Canned Tuna/Crackers
Protein Bars
Water
Gatorade
Pop Top Cans
Corn Cups
Cheez-It
Toothbrushes

Toothpaste
Pads/Tampons
Hand Sanitizer
Dry Shampoo
Tissue Boxes
Vaseline
Wipes
Towels
Razors
Soap