Our Team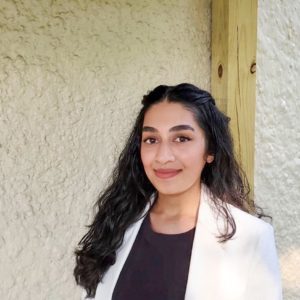 AQSA KHAN | CLINIC MANAGER
Aqsa Khan is an International Medical Graduate with extensive clinical and administrative experience. Born and raised in the suburbs of Philadelphia, Aqsa decided to pursue her dream of becoming a physician overseas, graduating with an MBBS from Pakistan. Driven by her interest in evidence based medicine and healthcare equity, she has worked in a variety of settings from outpatient clinics serving Pakistan's diverse population to emergency rooms in Chicago's South Side. In addition to her time at the clinic Aqsa enjoys hiking, weightlifting and spending time with her family. In the future she plans to apply to residency in Primary Care.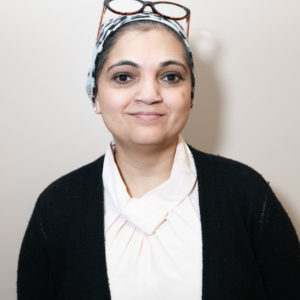 ANEEZA FAZLI-HAQ, MSW, LCSW | ICNA Relief Counselor/Social Worker
Aneeza Fazli-Haq is a Licensed Clinical Social Worker who has over 20-years of experience in the field of social services. She grew up in the suburbs of NJ and graduated with a BA in Biology and Psychology from Rutgers University. She graduated with honors from New York University School of Social Work where she received her MSW. She has 5-years of post-graduate specialized training in child development, play therapy, and contextual couples and family therapy.
As a clinical social worker, Aneeza has worked in a broad range of settings with diverse populations including developmental disabilities, homeless shelters, juvenile justice, community mental health, and private practice. She has functioned in the role of counselor, administrator, and trainer of graduate students in counseling settings.
Aneeza joined ICNA Relief SHAMS Clinic in May 2018 as the Clinic Operations Manager and Lead Counselor. She is married and has one son. She enjoys cooking, baking (feeding others), taking long walks in nature, and spending time with her family.
"What I love about ICNA Relief SHAMS Clinic that I have never experienced in other social service setting, is the positive energy and pure joy of the people I work with and who volunteer their time at the clinic. Serving others can be draining, but at the clinic I am constantly surrounded by people who have a passion and love of serving others." Aneeza Fazli-Haq.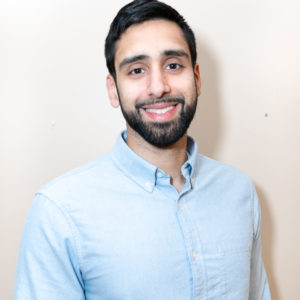 AMMAR SHAHID, MD | MEDICAL DIRECTOR
Dr. Ammar Shahid is co-founder and Medial Director of SHAMS clinic. He was born and raised in central Jersey but completed his training in Philadelphia. In 2016 he graduated from Drexel University College of Medicine. He then completed his family medicine residency at Chestnut Hill Hospital. He currently works in urgent care and will be starting a fellowship in sports medicine at Drexel University. In his free time, he enjoys playing basketball and hanging out with friends.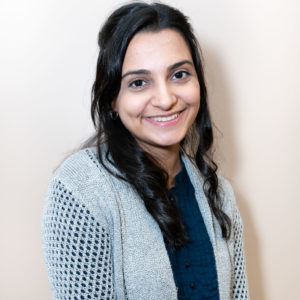 MARIAM KHAN | CLINIC ADMINISTRATIVE ASSISTANT
Mariam Khan is an international medical graduate who completed her M.B.B.S. from India. Born in Sydney, Australia and raised in the suburbs of West Philadelphia, Mariam decided to pursue her medical education abroad and persistently worked on her dream of becoming a doctor. She has been a clinical volunteer at the SHAMS Clinic for several months as she has always enjoyed lending a helping hand and participating in charitable events. Mariam has joined the team as a Clinical Administrative Assistant as of November 2019 and her future plans include continuing working with ICNA Relief in the years to come as well as applying to residency and practicing as a Family Medicine Physician. 
"My time spent volunteering at the clinic has been exceptionally valuable as it was here I learned that there is more to medicine than meets the eye. It's been a humbling experience getting to discover all the different aspects of patient care I was previously unaware of. From seeing patients from all walks of life to training new volunteers, I've come to realize how much of a blessing it is to be part of this team. The most rewarding part of it all has been getting to witness the tangible impact we've gradually made in the community. I am extremely grateful for the multitude of opportunities the clinic and the incredible people who work here have helped bring my way and in return, I hope to continue striving to make a significant contribution here."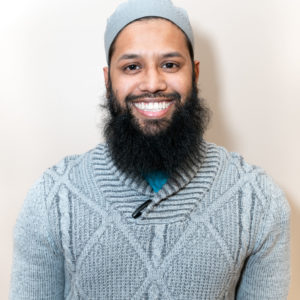 RAMZAN JUDGE, PHARMD | ASSISTANT DIRECTOR
Ramzan graduated from Temple University School of Pharmacy in 2013. Thereafter completed two years of pharmacy residency. He currently works as a Critical Care Pharmacy Coordinator in south Jersey. Ramzan spends his free time serving as the youth director at the North Penn Mosque, where he aims to be a mentor for the next generation of Muslim Americans. He enjoys hiking and hopes to one day visit all the national parks. He also enjoys playing soccer and spending time with his family.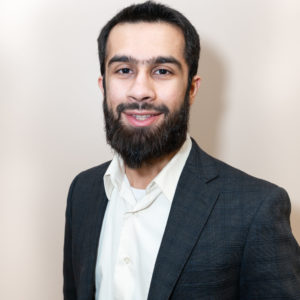 USMAN BAQAI | VOLUNTEER COORDINATOR
Usman grew up in the suburbs of Philadelphia where he attended Ursinus College in Collegeville, PA. In 2017 he received his Bachelor of Science in Biology and Applied Ethics. Currently he is a 3rd year MD/PhD student at Thomas Jefferson University. Usman uses his medical school connections to bring volunteers to the clinic and currently serves as the Volunteer Coordinator at SHAMS clinic.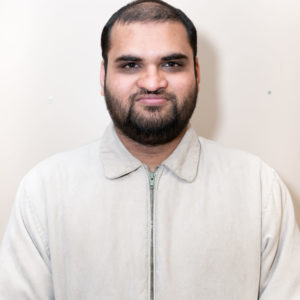 RAZIN KARU | ICNA RELIEF PA OUTREACH COORDINATOR
Razin is a fifth-year senior at Temple University majoring in Political Science and History. He was born and raised in India and immigrated to the US in 2013. Previously, he attended the Bucks County Community College (Class of 2017) where he founded the Bucks MSA and Bucks chapter of College Democrats and was elected as the Student Government President 2016-17, the first Person of Color to hold the office. At Temple, he has served as the President of the Temple MSA 2018-19 and the Speaker of the Parliament within the Temple Student Government. He currently serves on the Advisory Board of the Philadelphia chapter of the Council on American-Islamic Relations (CAIR). Razin naturalized to the US in May 2019 and plans to join the US Department of State as a Foreign Service Officer.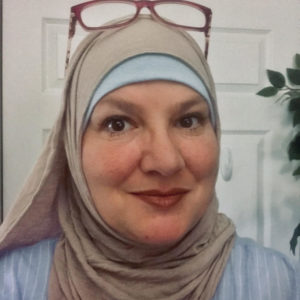 DANA MOHAMED | ICNA RELIEF PA DIRECTOR
Dana is ICNA Relief USA's Assistant Director of HR and Pennsylvania Field Director. She has been with ICNA Relief USA for 5 years now, opening the PA chapter in 2015, building the support network in PA, developing and running programs such as Refugee Services, Gift Eid Smiles, Health Fairs, the Peace at Home Symposium, Back 2 School giveaways and various workshops, events and fundraisers.  She has built strong relationships with community leaders/members in the tri-state area. She is passionate about helping the community and humanity as a whole. She studied Psychology at Temple University and has spent almost 30 years of her career working in the Health Insurance and Software Industries in marketing and sales capacities. MAAZ BAQAI | DEVELOPMENT DIRECTOR
Maaz Baqai is co-founder and development director of SHAMS clinic. Maaz graduated in 2015 from Temple University with a B.S. in public health. Due to his inherent managerial skills, and his interest in bettering healthcare, Maaz is currently pursuing his masters in health administration. He also works full time as a project manager for NantHealth, a leading company in healthcare IT. His interest and hobbies including sports (anything and everything) and spending time with family and friends.
Volunteer Providers
Dr. Abraham Dubb | Internal Medicine
Dr. Dubb is an internal medicine physician with over 20 years of clinical experience. He graduated from Temple University School of Medicine in 1998 and then completed his residency at UNC Hospital in Chapel Hill. Dr. Dubb then participated in a medical informatics program at the University of Pennsylvania. During this time he helped develop methods to automatically analyze medical images. After this research, Dr. Dubb went on to work in the primary care clinic of the Veterans Affairs Medical Center in Philadelphia for over 15 years. He is currently attending physician at the Innovage Health Center, a program which cares for the frail and elderly. Dr. Dubb has been with SHAMS Clinic since June, 2018.
Dr. Adil Shakir, MD, FAAFP, CAQ | Geriatrics
Dr. Adil Shakir is Board Certified in Family Medicine and Geriatrics. He has extensive clinical experience, having worked at various settings, including office-based practice, home visits, hospital medicine, subacute care, long term care and transitional care. He has been actively involved as an educator, training family medicine students and residents at an academic setting, as well as supervising physician assistants and nurse practitioners at various clinical settings. Dr. Shakir earned his degree from Al Ameen Medical College, Karnatak University Dharwad, in India. He completed his Family Medicine training at Montgomery Hospital and Geriatric fellowship at Thomas Jefferson University Hospitals, in the Philadelphia area. He joined Aetna Better Health of Pennsylvania, as Medical Director, in September 2019.
Dr. Safiyya Shabazz, MD FAAFP | Family Medicine
Dr. Safiyya Shabazz is the owner and Medical Director of Fountain Medical Associates, PC.  An alumna of Central High School of Philadelphia, she received her Bachelor of Science in Engineering and Medical Doctorate from the University of Pennsylvania.  She is a recipient of the Melvin Molstad Prize in Chemical Engineering and the Nikitas J. Zervanos prize in Family Medicine. She completed residency training at the University of Pennsylvania's Department of Family Medicine & Community Health where she previously served as a faculty member and remains on the volunteer faculty as an attending preceptor for Penn Med students. Dr. Shabazz is a diplomate of the American Board of Family Medicine and a fellow of the American Academy of Family Physicians. She lives in the Mount Airy section of Philadelphia with her husband and two children.
Dr. Suhail Salim, DO | Family Medicine
Dr. Suhail Salim was born in Queens, NY. He was raised in Queens and Long Island, NY. He completed his undergraduate degree in Biochemistry from the University of Rochester. He attended the New York College of Osteopathic Medicine (now known as NYITCOM) for his medical degree. He then pursued a Family Medicine residency from South Nassau Communities Hospital (now Mount Sinai South Nassau) in Oceanside, NY. Dr. Salim has been working in Urgent Care since 2013. His interests include pop culture, scifi, comedy, podcasts, amongst other things.