Welcome To Shams Clinic
A Free Clinic Serving Philadelphia
The Philadelphia Department of Public Health has signed onto a letter thanking local imams for their adherence to previous COVID-19 recommendations and urging them to follow the City's new Safer at Home guidance as cases have risen across the region. This letter, written in partnership with ICNA Relief SHAMS Clinic and CAIR Philadelphia, was signed by the Department of Public Health, the Muslim Wellness Foundation, the National Black Muslim Covid Coalition, and Muslim Aid Initiative. The letter details the new Safer at Home recommendations and provides advice on how to safely observe the key obligation of prayers in the mosque while mitigating the spread of COVID-19; it was sent out to Muslim imams, mosque board members, and community leaders. Copies of the letter are available upon request by emailing james.garrow@phila.gov. Read more here.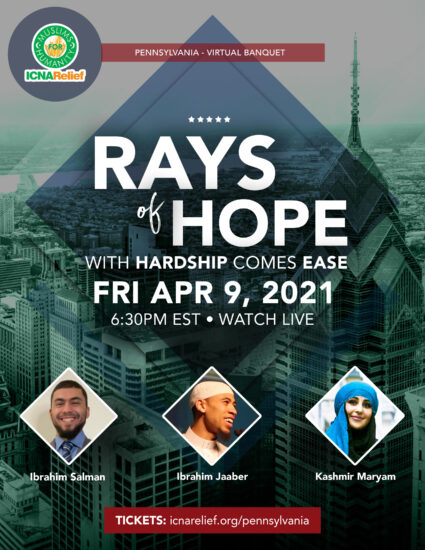 Make 2021 amazing and help fundraise before our virtual banquet!
FRIDAY, April 9, 2021 @ 6:30PM EST
Come see the progress, the plans, the programs!
"I can't say enough great things of what this organization does for the people in need. My family in three households had Covid-19 and without the help of the caring people of ICNA Relief our situation has dramatically changed from bad to good. I am proud to post this and say that in this time of uncertainty they have given me HOPE. I will also say that every interaction with me or my family and a member of ICNA Relief has been very courteous and professional. I would give everyone a big hug if I could. Thank you from the Miller family."