Jamaica Pantry
87-91 144th Street Jamaica 11435
Thursdays 11am-1pm
For Urgent Need Call: 718-658-7028
Flushing Pantry
140-32 Cherry Avenue
Flushing NY 11355
Wednesdays 12pm-2pm
Brooklyn Pantry I
273 Neptune Ave
Brooklyn NY 11235
Mondays 12pm-2pm
Brooklyn Pantry II
1325 Foster Ave
Brooklyn NY 11230
Tuesdays 2pm-3pm
Bronx Pantry
1277-D Burke Avenue
Bronx NY 10460
Saturdays 9am-11am
Valley Stream Pantry
300 Stuart Avenue
Valley Stream NY 11580
Thursdays 4pm-6pm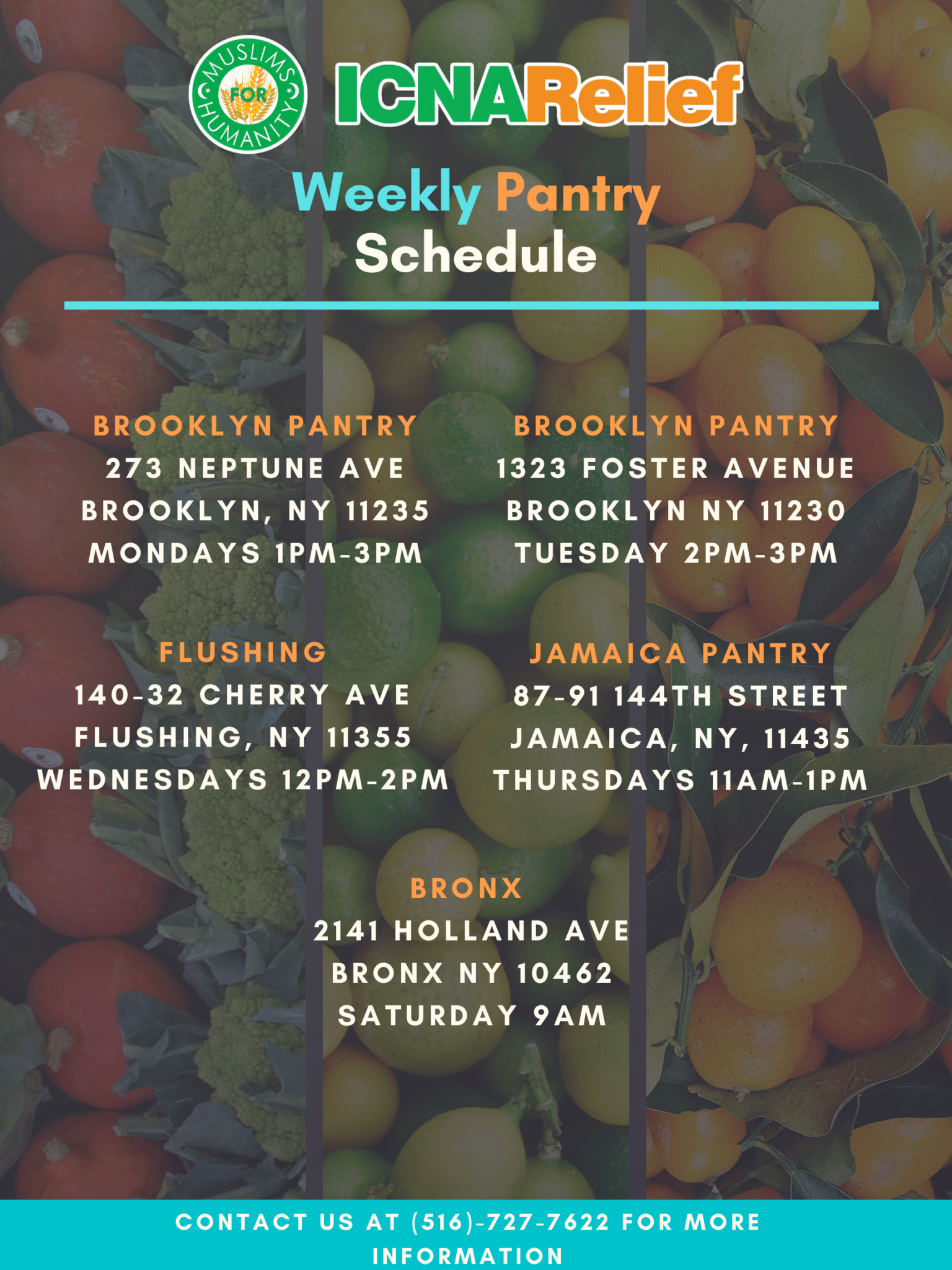 Mission
According to research done by the U.S. Department of Agriculture, 49 million Americans live in "food insecure" households meaning they don't know where their next meal is going to come from. To alleviate the national hunger crisis hitting families across America, ICNA Relief has established its hunger  prevention program to help both individuals and families from going hungry. ICNA Relief utilizes its full resources to launch effective programs that target impoverished communities thereby bringing life, nourishment and hope one meal at a time.
ICNA Relief's national Hunger Prevention program provides individuals and families with the fuel to survive and thrive. Following the ordinance of Allah to feed the needy, ICNA Relief's development of key public food assistance services raises awareness of the hunger epidemic facing our nation as a whole.
The various hunger relief initiatives of ICNA Relief are aimed at raising community awareness thereby launching efforts to address this growing epidemic. On average,  we feed over a 300,000 people every year across the Nation through our services.
During the National State of Emergency due to the Coronavirus, ICNA Relief offices are stepping up our services to address the current challenges that our disadvantaged community members may be facing. From hot meals distributions to the homeless, to food box doorstep deliveries, our teams are helping our neighbors in need while adhering to proper protocols and procedures given by health experts and public officials.  See your donations in action!